Come paint, sketch and tour the Italian Countryside with me (May 19-26) and Winslow Art Centers acclaimed "Arte Umbria" plein air painting adventures, near Orvietto, Italy. This is a limited enrollment workshop (14 maximum) that already has sign-ups for an unforgettable cultural art adventure, which will also include hands-on Italian Cooking classes with the chef/owners of a 300 acre farm and villa, just a few kilometers from Orvietto, where we will all live for 7 nights and 8 days!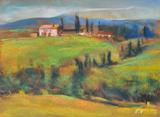 The farm has olive oil and vineyards, plus fields with sheep and spectacular views of the Italian countryside in all directions. You will stay in old stone buildings remodeled to modern standards for your complete comfort and privacy, plus hands-on art instruction daily, including live demos at all sites with me.
www.winslowartcenter.com
for full details, prices, accommodations, travel itinerary and to register - or call Martha Jordan, owner of Winslow Art center, 206-715-6663 to learn more about this fabulous trip to Italy!
Our trip starts and ends in Rome, just 1 1/2 hours south of the Provence of Terni, and also includes our ground transportation from Rome and back, as well as daily transport to the villages and painting sites. Fabulous daily meals, wines, all accommodations and small private tours are all in the package!
A $200 early sign-up discount off the art instruction fee is offered for registration before January 31st! Non-painter spouses/friends welcome at a reduced rate, on limited space available basis.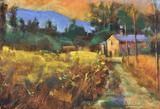 View
the list of workshops
and schedule of my other workshops this coming year. May peace prevail and Happy New Year to all of my blog subscribers. I do hope to see you all in 2017!