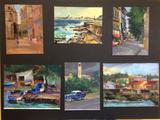 The invitational one week plein air painting event, organized by B. Eric Rhoads, publisher of "Plein Air Magazine", in and around Havana, Cuba was nothing short of fantastic.
There were over 70 artists plus 35 spouses, collectors and patrons on this historic trip to Cuba, February 6-13. We all stayed at one hotel and bussed into the old city of Havana to paint on – site. Also to small fishing villages, like Cojimar, immortalized first by Lord Albermarle, in 1678 when the huge British war fleet invaded Havana though the back door, then much later by Earnest Hemmingway (1898-1961) who's house (and boat, "Pilar") there has become a museum. We visited many of Hemmingway's haunts on this trip and you can still feel his presence. "The Old Man and the Sea" was written with Cojimar as the setting.
But beyond all that is modern day Cuba, still struggling with economic realities that make it seemingly impossible to exist in this beautiful Caribbean paradise. The people were so friendly, helpful and always giving more than they had to all of us on this trip, as we painted their culture. Those famous 1940's-50's cars have been kept running by hook and crook – shear mechanical genius, in fact. Look at it this way – the warranty, on say a 1948 Chevy, was never intended to go over one million miles, but it does in Cuba! The cars have become part of the Cuban's legacy and according to our guide, are forbidden to be sold outside of Cuba – they are icons of their modern history and must be preserved. We are talking tens-of-thousands of these colorful old cars, just in Havana.
Never in the history of Cuba have so many artists arrived at the country just to paint and record our impressions of a place that has been locked in time for over a half century. It was truly a "time warp" for all of us and we knew that history was being made through paint brushes, pastel sticks and drawings that have captured the look and feel of this incredible place – all before the inevitable changes that will be made as the country steps into the modern world economy. Music, colorful clothing, the old cars all add into their daily lives that are wrapped around family and a sense of sharing.
I am sharing six of the eleven plein air paintings I did there in this blog and hope you enjoy. Some are more finished than others (time was a limiting factor) but I have enough visual information to work on hundreds more, from reference photos and field studies (sketches) that I did in Cuba!
Note: one of our group, Turner Vinson, has made a short video during this trip:
https://www.youtube.com/watch?v=617LgZdfzVk