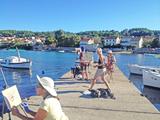 My Complete 2018 Workshop calendar is now posted:
www.windsweptstudios.com/classes/
I am limiting my workshop teaching to 3 total this year, to give more time to my painting and gallery activities.
Update - the beginning level pastel workshop at Dakota in March already has 11 sign-ups, unadvertised, and the 3 day workshop in July is also starting to fill. Both are limited to 14 students total. To register and reserve the last spots. 1-888-345-0067 or
www.dakotaartcenter.com
IT'S OFFICIAL!!
The September 2018 Croatia Art and Travel Experience is a GO!!
We have eleven registered now, with room for only 3 more. People are making firm plans for this trip, with airline reservations and extra travel days around that beautiful part of the world . . . which, by the way, includes all of Europe. Don't miss this one!! Details at
www.slikamilina.ca