There are still some spaces left for the 10 day plein air painting experience on Korcula Island, in Southern Croatia, October 5-14, 2009.
I will be doing live daily demos at many sites around this beautiful island, including the ancient city of Korcula, as well as many seaside and hilltop villages, old vineyards, olive orchards and around the famous turquoise waters here.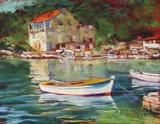 Registration by August 5th.
www.slikamilina.ca
for full information and details. Only $1550 U.S. (funds are payable in Canadian dollars at current exchange rates) pays for all lodging, the workshop fee, all meals (full breakfasts, sack lunches for painting sites and beautiful dinners with wine) and ground transportation. (Non-artists spouses, travelling companions only $1350 U.S.).
The painting here is from my last trip to Korcula Island titled "Croatian Island Port". I will be doing live daily demos at all sites, mainly in pastel, but other mediums (oils, watercolors, photography) are encouraged.
Reader Comments
1.
Tuesday, May 12, 2009 @ 7:02:14 PM by
Emily Reed
Steve, It is so exciting to see what you are doing - and accomplishing. Congratulations. I'm selling our property so am really involved now but next year, if I take a few painting lessons, I would love to go on one of your workshops. This Croation adventure sounds unique. Have a wonderful time.
2.
Monday, July 20, 2009 @ 10:01:22 AM by
virginia carija
I would like to purchase a copy of "Croatian Island, port in Korcula" how do I do this? I am also very interested in your trip to Korcula.virginia carija
Leave a Comment