Special Holiday Gallery Shows
This Saturday, November 29th, I will be among other gallery artists at the Gallery San Juan Holiday Show in Friday Harbor. Opening reception is at 5:00 p.m. They are located at 210 Nichols Street in Friday Harbor.
On Friday, December 5th during the First Friday Art Walk in downtown Vancouver, Washington, I will be participating in the annual Small Works Show at Art on the Boulevard, with other gallery artists. I have 5 new pieces in that show, including paintings from France, Croatia and Italy. Two of those pieces are pictured here.
www.artontheboulevard.org
to preview the show. I hope any of my blog subscribers from these 2 areas will be able to attend openings and see the new work.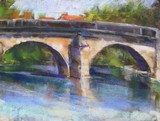 As a reminder, the show at La Conner Seaside Gallery in La Conner, WA is still hanging and we've had many very favorable reviews from patrons and visitors. This show hangs until January 5, 2009 and features paintings by myself and Mark Bistranin, photos by Mark Conley, glass work by Annette Tamm, and sculpture by Tamara Buchanan. Their web site:
www.laconnerseasidegallery.com
to preview the entire show.
If you are on Orcas Island, please visit Crow Valley Gallery in Eastsound to see some of my most recent plein air pieces from the islands and beyond! Crow Valley offers excellent annual holiday discounts on most items, from Nov. 28th through Christmas.
I hope everyone has a great Thanksgiving Holiday! I am looking forward to a remodeled web site soon, complete with a "print gallery" shopping section for limited edition giclee prints made from my original paintings.
Steve Hill