Portland, Oregon Gallery News Update
. . . When one door closes, another will open.
After 8 years serving the Portland fine arts community with flair and character, Yoshida's Fine Art Gallery in Portland, Oregon, closed their doors on June 11, 2007. I would like to thank Linda Yoshida for the rare opportunity to exhibit at the gallery and to be involved in the annual "Observing Oregon" paint-outs and group shows.
My very special thanks go to the incredible gallery staff: mainly Kevin Weaver, David Baumann and Cherise Miller for 2 years of close affiliation plus successful sales and connections with clients while representing my artwork at the gallery. Fare thee well to all of you – it was a grand experience in so many ways!
New Portland Gallery
I am quite pleased and much honored to announce my new gallery affiliation at The Gottlieb Gallery in downtown Portland.

Since purchasing the business in the early 90's, Julie Gottlieb has proudly positioned her gallery as one of the Pacific Northwest's leading venues of the highest quality fine art.
Her personal approach to successful pairings of quality artwork, artists and clients is not only common knowledge in the Portland art scene, but comes from careful selections that rely upon her innate ability to identify and cultivate excellence in fine art at every level.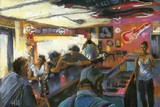 Visit the gallery website:
www.gottliebgallery.com
to see and experience the artwork and artists firsthand. I look forward to re-connecting with my Portland area clients and collectors at:
The Gottlieb Gallery
220 SW Yamhill
Portland, Oregon, 97204.
(503) 241-1070.
email:
[email protected]
Reader Comments
1.
Friday, August 10, 2007 @ 11:54:09 AM by
Sue Smith
Hello Steven~ I wanted to tell you what a treat it was for me to find your blog and web site. I thought it was a beautiful presentation, I connected to your artist statement, and just wanted to pass along my thanks to you for brightening up my morning. The next time I'm in Portland (actually this coming weekend) I will visit The Gottlieb Gallery because I would love to see your work in person. best regards, Sue Smith http://www.suecsmith.com
Leave a Comment