We're finally winding-down from the Labor Day Weekend Studio Tour which had a record turn-out of over 400 people through our home and studio in 2 days. The new addition to our home/gallery allowed 27 originals to be displayed as well as dozens of giclee prints out for full view (not in print bins).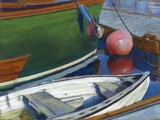 I had many questions and comments about the works in progress which were on 3 easels throughout the exhibit,enough that I will be doing "live" plein-air demo pieces at next years studio tour.
We are already planning for the next tour as well as "Open Studio" weekends in the summer of 2007. Please remember, if you wish to stop-by anytime you are visiting Lopez Island, simply call or e-mail. (360) 468-2557 or
[email protected]
... you and your guests are always welcome to view works-in-progress and have a private tour of my studio and home gallery.
My work is always available to view at the following galleries: Crow Valley Pottery, Orcas Island; Colin Goode Gallery, Lopez Island; Scott Milo Gallery, Anacortes, WA; Pacific Marine Gallery, Bellingham, WA; Yoshida's Fine Art Gallery, Portland, OR; and River Stone Gallery, Ennis, Montana. All of these galleries feature exquisite works by other artists as well and are well worth a stop anytime you are in those areas!!
I'd like to thank all who came to our studio and hope to see you next year, as well. I'll be sending "blogs" of the next few art events I'm participating in around the Northwest as they occur.