The 10th Annual Labor Day Weekend Studio Tour will be this Saturday and Sunday, Sept. 2 & 3rd on Lopez Island. I have dozens of new originals and giclee prints from my recent two trips to Italy as well as sojourns around the San Juans and Pacific Northwest on display.
It's an easy 2 mile walk or drive from the ferry landing to our home at 783 Port Stanley Road. Go south on the only road from the ferry landing and turn left in about a mile onto Port Stanley Rd., just across from the entrance to Odlin County Park. Proceed east one mile to our home which is on the left side of the road (water side) just 3 drive ways past Shoreland Drive.
There are 23 studios and 32 artists participating in this annual 2 day event. I'm posting two recent plein air pieces that I painted on Lopez this month. Both will be at the studio and have matching giclee prints as well.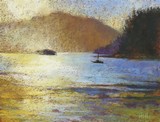 My originals are all framed with high quality wood mouldings, real linen archival double mats, spacers and museum grade glass for the best possible presentation and are ready to hang in your art collection.
My pastels can be shipped anywhere in the world in special "Airfloat" shipping containers with a "made for pastel" triple foam layer for protection. I've had excellent results shipping this way with no breakage, dust or damage to any contents, in spite of the fact that some shipping companies use handling methods akin to a cub bear wearing boxing gloves or a soccer player on steroids. In fact, these conainers are so-o-o soft, I'm thinking of using one to sit on while I paint next time!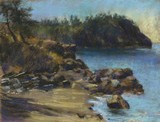 I hope to see you this weekend and as always, welcome visitor's to the studio by appointment. Simply call 360-468-2557 or e-mail:
[email protected]
Reader Comments
1.
Wednesday, December 13, 2006 @ 1:27:36 AM by
Kevin
Absolutely beautiful art! You have an amazing eye and technique!
Leave a Comment