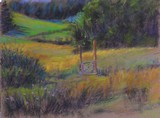 That piece is available for purchase during the show which runs through July 30th. There are still some great paintings available by all artists who participated in the "Home and Abroad" theme for this show. My work focuses on Orcas Island and Italy landscape and marine paintings.
Crow Valley Pottery is open 7 days a week. Go to their web-site
www.crowvalleypottery.com
for details.