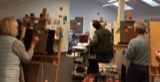 2016 Workshops have started – the photos here are students from my Pastel Workshop taught at San Juan Islands Museum of Art in Friday Harbor, January 16-18
I had twelve very enthusiastic students who all produced some incredible landscape paintings, once we got through the "basic pastel stroke exercises" the first day. There are now some painters honing their new skills and headed for their studios in the San Juan Islands! This was the first full-capacity art instruction workshop at this beautiful new museum and I was very honored to have been selected to lead it!
My next local workshop will be at Dakota Art Center, Mt. Vernon, March 18/19 & 25/26. These are half-day sessions spread over 2 weeks to give extended learning time for everyone. We already have 5 sign-ups and it's limited to 14 total.
www.dakotaartcenter.com
for details and to register for beginning/intermediate level pastel with Steve Hill.
A reminder for those who have indicated an interest in traveling to Europe with me in June/July, there is still space in my two workshops.
Korcula Island, Croatia June 5-14
www.slikamilina.ca
for full info and to register
Bruges, Belgium June 30-July7
www.frenchescapade.com
Check-out both web sites and start planning your European painting adventure now. Both are limited to 14 total and are incredible deals with food, ground transportation, lodging and painting instruction from me.