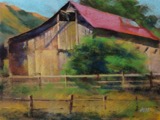 The 22nd Annual Carmel Art Festival (May 14-17) -provided a great venue for painting along Big Sur and around Carmel, plus an excellent exhibit featuring the 60 artists juried into this year's event.
One of my pieces "Rockfish" painted en plein air near Soberanes Point along the Big Sur coastline line sold at the festival. I have also delivered 4 new pieces done during the same week to New Masters Gallery in Carmel, where my art work is now represented.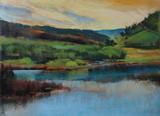 "New Day, Carmel River Estuary" and "Carmel Valley Sentinel", (the old barn at Garland State Park, a former working ranch in Carmel Valley) are two that are pictured here. Hope you enjoy and can see these pieces up close at New Masters Gallery, on Dolores between Ocean and 7th. I am a new artist at this gallery and proud to exhibit among some of the finest painters in America.