A big thank you to the large crowd at our opening reception last Saturday night for "Croatia through Lopezian Artists' Eyes" at the Lopez Community Center for the Arts! The exhibit hangs through January 5, 2015 and is a great opportunity to see artwork done entirely on site (en plein air) by Ralph Bladt, Anne Whirledge Karp and myself, while we were in Croatia this past September.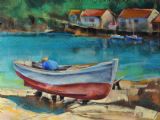 I'd also like to take this opportunity to announce my next overseas art workshops and wish everyone a Happy Holiday Season.
It's never too early to start planning for an art workshop that require overseas travel and these are both just over 18 months away!
Europe in 2016
Island of Korcula, Croatia - June 5-14. Limited to 12 attendees (both artist and non artists).
www.slikamilina.ca
for full description and to register. All skill levels and mediums welcome, including pastel & oils (my live demo mediums), acrylics, watercolor and drawing. This will be my third workshop there!
Bruges, Belgium – June 30-July 7. Maximum 12 students, all skill levels and mediums encouraged (I will be doing most of my live demos in pastel and oils).
www.frenchescapade.com
for complete details and to register.
Both workshops in Europe will be spent painting outdoors, with emphasis on simplifying subject matter and making paintings that respond quickly to any subject. Daily live demos start each day with lots of help at each student's easel during the entire workshop. Each day will end with very informative problem solving critique sessions and reviews of student work. Expect to come away with a whole new vocabulary in painting and a fabulous, fun experience. Gourmet food, touring to spectacular painting sites and lots of extra cultural experiences are major parts in each workshop!!
I am also teaching again in 2015 at Dakota Art Center, Mt. Vernon, WA, beginning this spring
March 21/22 & 28/29 Introduction to Pastels – 2 weekends, half days
June 25-27 Introduction to Plein Air Pastels (3 full days)
Please visit their web site:
www.dakotaartcenter.com
for complete details. These are both pastel only workshops!