Windswept Studios and Fine Art Gallery Labor Day Weekend Studio Tour Sat, Sun and Mon., August 30-September 1.
This year we are featuring over 100 original framed paintings by Steve, and over 40 "unframed half price" originals from all over the islands, the U.S., and 9 countries in Europe, done over the past few years. They include landscapes, cityscapes, seascapes – plus many with the human figure in motion, as they are all painted on-site. There will also be some live tutorial demos (works in-progress) set-up to show the steps he uses when painting outdoors.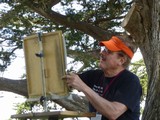 Steve's list of awards grows with his continued full-time involvement as a plein air artist, world traveler and workshop instructor. We hope you will be able to visit our home gallery and see his newest works, Saturday, Sunday and Monday, August 30-September 1.
783 Port Stanley Rd., just across the road from the north-end fire station. Hours are 9-5 during the tour as well as "Labor Day" Monday, September 1st!