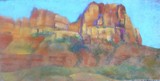 Painting for the past 10 days at Zion National Park amidst the most stunning landscape and ethereal colors I have ever experienced, can best be described as immersion into another world. Even this view, painted at sundown yesterday from our host-provided casita has infinite possibilities for further exploration in pastel, oil and watercolor – all mediums I will be employing in the next several months. A special journey has begun here, one I plan to re-visit many times!
Reader Comments
1.
Monday, November 11, 2013 @ 1:24:12 PM by
Belinda
Some wonderful work Steve. Zion is a magical place.
Leave a Comment