The 17th Annual Labor Day Artists' Studio Tour will be this Saturday and Sunday, (8/31 & 9/1). I'll have more than 100 original paintings (as well as some new figurative drawings) with many new pieces from recent plein air painting forays around the islands, the U.S. and Europe.
We are hosting a special "Studio Tour Preview Party" for collectors and patrons, with attractive discounts on all sales this Friday, August 30th from 5-8 p.m. at our home and gallery.
This year, we're featuring a special raffle drawing and live auction of 2 original pastel paintings I created especially for the Lopez Island Historical Society featuring the Sally J, a gill net boat now retired and on permanent display at the museum. Proceeds from the raffle and auction benefit the Lopez Island Historical Society.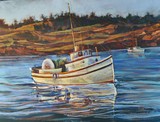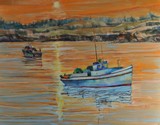 A nicely written article by Ande Finley about this special auction event appeared in the Islands Weekly newspaper while we were travelling and painting in Ireland and England over the last month. Click on this link
http://www.islandsweekly.com/news/217178271.html
to read.
The LIHS Museum board and I are very grateful and quite honored to have celebrity auctioneer, Sharon Friel, volunteer her time to host this special live auction at the party! Sharon will auction whichever Sally J painting isn't drawn during the raffle.
We recently mailed invitations to our gallery list of patrons and collectors, and we would also like to invite any blog subscribers who wish to attend this special event at our home and gallery. It is by invitation only, so please email your rsvp, by Tuesday, August 27th, if you would like to attend. We can also accommodate a few bidders online. This requires a bit of set-up, so please contact us as soon as possible if you can't attend, but would like to bid.
Tickets for the raffle may also still be purchased, either at the Lopez Island Historical Museum, at their website:
http://www.lopezmuseum.org/
or at Windswept Fine Art Gallery, until the drawing takes place at the party.