Plein Air Artists-in-Action, August 13-14
I am pleased to announce that I have been invited to do live demos at The Pacific Northwest Art School this coming Saturday and Sunday in Coupeville, WA. This event coincides with The 48th Coupeville Arts & Crafts Festival, a major annual event for thousands of art lover attendees. I will be working in pastel both days and always encourage questions from viewers during my live demos.
On the teaching front: I will be doing a 3 day pastel workshop (plein air) with The Pacific Northwest Art School, in August 2012. Brochures and info for this future workshop will be available at the festival and on-line, by this weekend. www.pacificnorthwestartschool.org for more info and to sign-up.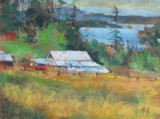 Note: The painting pictured here, was done last weekend on Orcas Island. It is titled "Deer Harbor Overlook" and sold to a private collector from San Juan Island, during the live auction for the San Juan Preservation trust and Plein Air Painters of Washington.
Reader Comments
1.
Thursday, August 11, 2011 @ 3:37:08 PM by
Pinky Ridlon
Congratulations Steve! 3 pieces sold- fantastic! Sounds like you are not starving anymore.
Leave a Comment