Summer Social and Paint-Out, 2011
I will be participating again in the 4th Annual San Juan Preservation Trust and Plein Air Painters of Washington live paint-out and fine art auction tomorrow, July 30th, at Turtleback Mountain Preserve on Orcas Island. Several artists from all over the state will be present and working on - site.
This is a great opportunity to view artists at work and experience "plein air" painting in many different styles and mediums . . . wonderful food, local wines, live music, children's activities plus the art show and auction all add-up to an event worth seeing!
1:00 - 6:30 P.M. at the south entrance to Turtleback Mountain Preserve. Go to www.sjpt.org for a map and complete details. Hope to see you there!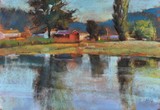 The painting here, titled "Estuary in Rouge" was painted on-site in early July, at Port Stanley, on Lopez Island and is one of 3 new island pieces I am exhibiting at Crow Valley Gallery on Orcas Island, through the month of August.