The 42nd Annual Ocean Shores National Juried Fine Art Competition is April 8-10 at their beautiful and spacious, new convention center. I had 3 pieces juried into the show and have been invited to be one of several "artists in action" during this year's festival. I will be at the convention center from 10-5 on Saturday and Sunday, the 9th and 10th doing live paintings in pastel. Since it's indoors, I'll be working from reference photos and memory from my plein air painting trips. I plan to do 2 paintings while there, probably from Italy and Croatia.
www.associatedarts.org
to visit their web site.
If you are in the area, please stop-by, say hi and check-out the art work that will be hanging for the 3 day festival. It's always an exciting show and covers all 2-D & 3-D mediums. The piece here, "Riffle" was painted as a plain air demo during one of my workshops last summer, at Port Stanley estuary, about a mile from our house and is 1 of 3 of my paintings accepted into the exhibit.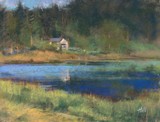 I extend my sincere apologies to anyone who came to the artists' reception April 1st at The Depot Arts Center in Anacortes (see my previous blog) and found that the featured artist (me) wasn't there. After living on this lovely island for more than 35 years, I should have known the ferry boat was going to break down on exactly that day . . . April 1st after all! Our sailing to Anacortes was cancelled due to a computer malfunction aboard the vessel. The Lopez/Anacortes -bound ferry had to return to Friday Harbor (where the crew successfully re-booted the on-board computer) and then wait for the U.S. Coast Guard to bestow their personal blessings upon the boat which is required by law, whenever a computer goes wonky. I wonder if they cracked a bottle of champagne over the stern? Probably has something to do with home land security (my best guess) but nevertheless resulted in a canceled trip to Anacortes. Ah . . . la Dolce Vita in Isola Lopez! I will announce the second opening May 6th, as the show runs for 2 months.
Reader Comments
1.
Monday, April 04, 2011 @ 9:19:26 AM by
Jim Bowra
Which end do you crack the champagne over? Both ends look the same to me. I guess the ferry systems computers have gotten better since the introduction of the Issaquah class where they would go from full speed ahead to full speed in reverse on their own. Good luck getting off the island next time. I look forward to seeing more paintings. Jim
Leave a Comment