24th Annual Northwest Pastel Society International Open Juried Exhibit
November 13- December 21st at the American Art Company, 1126 Broadway, Tacoma, Washington. I had one original piece juried into this annual exhibit, pictured here and titled: "Resting Under Evening Skies".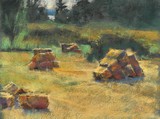 It was painted in August, 2010, en plein air near the village on Lopez Island, where I live and work. The opening reception is 1-4 P.M., and will be well attended.
I will also be showing giclee prints of this piece, together with a few originals and other prints locally, at The Lopez Island Golf Club Holiday Art show, next Friday, Nov. 12th at 5 p.m. and Saturday, Nov. 13th 10-2 p.m. I hope you can make either of these two events.