Don't miss the annual Plein Air Washington and the San Juan Preservation Trust Summer Social and Paint out, this Saturday, July 31st
I will be participating again this year in both the juried art exhibit and invitational plein air "quick draw" event at the Hoedemaker Farm on Lopez Island. Dozens of artists from all over the northwest will also be participating and working on-site during this event, which features: a live art show and auction, on - site (plein air) painting, children's activities, food by renowned chef, Kim Bast, wine from Lopez Island Vineyards and live music by JP and the OK Rhythm Boys!
For a detailed map and directions:
www.sjpt.org
and view "calendar of events". Pictured here is a pastel I did about 3 weeks ago, in a practice run titled: "Marking Time and Pushing 100".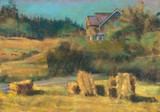 The artwork selected for exhibit by jurors, will be exhibited and for sale, Saturday, from 4-7 p.m. Many painters will be arriving earlier than that to set-up and paint on Saturday. Many of the remaining works will then transfer to Crow Valley Gallery in Eastsound for a special exhibit through Labor Day weekend.
www.crowvalley.com
I hope to see many of you there on Saturday, while we all work within the great range of landscape possibilities and subject matter provided at this historic old farm.
Reader Comments
1.
Tuesday, April 05, 2011 @ 8:43:48 AM by
mike webb
I always thought your special gift was installing solar roof top containers. Who would have guessed. Congrats. Our best to Judy. Your always welcolm in Coeur d'Alene. Mike and Roxy
Leave a Comment