I am now showing my work in the Portland/Vancouver area at "Art on the Boulevard Gallery" in downtown Vancouver.
www.artontheboulevard.org
.
This gallery is managed by Kevin Weaver, formerly the curator/manager at Yoshida's Fine Art Gallery in Portland. It's great to be working with Kevin again, as he has managed to put together over 50 high quality artists (many of the best painters from Yoshida's are now showing here, as well) and is simply one of the best gallery managers I have ever had the opportunity to work with. If there isn't anything going-on around the art world, Kevin always finds a way to make something really cool happen . . . to wit, this evening is an art opening "Art in the Heart" from 5-9 where many artists are offering a one-time major discount on their works – it's ONE NIGHT ONLY, so get on down to the gallery and see what awaits! I have personally discounted a major piece (20%) titled "Boats at Vernazza Harbor and all of my other pieces are 10% off tonight only.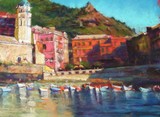 See the gallery web site and click on individual artists names for images. The gallery is located at Evergreen and Columbia in downtown Vancouver, Washington.