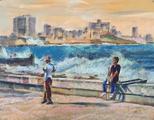 A Major Art World Event coming - up in Santa Fe, NM!!
I am going to Santa Fe, NM for the 7th Annual PACE Convention (Plein Air Convention & Expo), starting next Monday, April 16, organized by B. Eric Rhoads, publisher of both Plein Air Magazine and Fine Art Connoisseur Magazine.
There are nearly 1,100 artists registered to attend this big annual 5 day convention, which features many art events, workshops and live demos with masters from the art world, plein air painting sites in and around Santa Fe like Chimayo, Taos, The Ghost Ranch and others. I will be out there every day painting on-site with literally hundreds of other artists! It will be the largest single gathering of plein air artists in the world, and underscores what has become the largest movement in art history.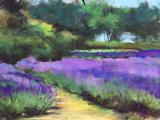 One of the big events is a 4 day Art Show with framed works on easels by many of the artist attendees and I will have two easels with original works for sale during the exhibit. Three of those are pictured here: "Pelinadaba Lavender Farm Path I & II, and "Malecon Tempo, Havana" from my recent plein air trip to Cuba. I plan to also exhibit at least one of the paintings I'll be doing around Santa Fe during the big event and will post it on Face Book and Instagram from Santa Fe.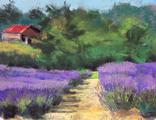 The art exhibit is at The Hilton Santa Fe Buffalo Thunder Hotel, from 4/16-4/19 only (and closes at 3 p.m. on the 19th).
I am also in the process of remodeling my own web-site to make a more active gallery, periodic art newsletter, update my gallery pages and post new work as it is done, so watch for that transition in the very near future!