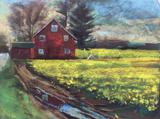 I am excited and honored to be invited as a featured artist at the Town of La Conner, Washington's 33rd annual "ARTS ALIVE" Festival of Visual, Literary, Music & Culinary Arts this coming weekend, November 3, 4 &-5.
I will have 16 original paintings in a special exhibit at Maple Hall, 104 Commercial Street, La Conner, with an opening artists reception Friday, November 3, from 5-9. The opening reception will feature live music, wine and hors d'oeuvres and is open to the public.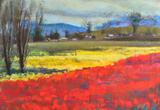 Don't miss my two live painting demos during the 3 day festivities. The first is from 1-3 p.m. at Maple Hall on Saturday, Nov. 4 and the second is from 10-12 on Sunday. I will be doing simulated, narrated "plein air" pastel paintings with subjects from both Cuba and Croatia, while working from reference sketches, photos (and my memory) of recent painting trips to both countries. My demos are engaging, fast-paced and spiked with a little art history . . . always give the audience a sense of "being there" as I complete a painting from start-to-finish, in less than two hours.

These are two of the paintings I'll have on display - "Valley Layers" and Skagit Spring", both done on-site near La Conner in the past two years. Hope to see you there!