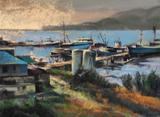 I am very excited to be featured artist at Scott Milo Gallery in Anacortes, WA for the month of February and just delivered 15 new paintings to the gallery today for the opening reception this Friday, February 2 from 6-9 p.m.
Fourteen of these are plein air landscapes in pastel, from Cuba, Croatia, Belgium, Idaho (river paintings) and of course the San Juan Islands and the Skagit Valley.
One of my new pieces is a 37" diameter canvas (2" depth) that looks as much like a wall sculpture as a painting. It can be easily rotated 360 degrees to change orientation – there' s no reference to horizontal, like looking down into a watery rhythm of shape, form and color. It is titled "Perpetual Motion", oil paint on linen canvas and priced at $7000.

I am working on 3 more of these canvases at present, both 37" and 48" diameters) which are Belgian Linen stretched on custom laminated cabinet grade plywood armatures that are @ 2" in depth and that form a perfect circular "frame" without using molding. They are lightweight and incredibly strong construction to be able to hang on a traditional gallery picture hanger - the kind you can buy at any hardware store and easily mount into a sheet rock or plaster wall.
I did a series of circular canvases back in my Graduate School Days at WSU and decided to re-visit the concept with this new series. I now have a better construction method (a cabinet maker friend who can cut perfect circles) and better materials to seal, paint and varnish the finished piece (Gamblin products).