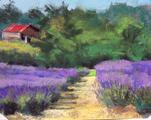 Two of my plein air paintings done at Pelindaba Lavender Farm this week, in full sun and full bloom...summer is definitely here! It's good practice for painting around the Columbia River Gorge next week where it's just as sunny and even hotter.
I am excited to be among the 40 artists from around the U.S. invited to the 13TH Annual Pacific Northwest Plein Air Event, July 31-August 4, with an opening public reception and exhibit, Friday August 4, 5-8 p.m. at the beautiful Maryhill Mueseum near Goldendale, Wa.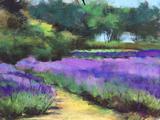 I plan to exhibit several paintings from the rivers, plateaus and peaks of the Columbia River Gorge for the reception. Hope to see you there!
www.maryhillmuseum.org/pleinair