Upcoming Pastel Workshop July 2014
To my blog subscribers and aspiring plein air painters! I am teaching another beginning/intermediate level plein air painting workshop at Dakota in Mt. Vernon, July 12/13 and 19/20 (2 weekends). This workshop still has a few spaces left.
If you've always wanted to take that little step from the studio to the great outdoors, we are looking at near perfect summer weather, some great new painting sites around the fabled Skagit Valley, including the Northern State Recreation Area, near Sedro Woolley (lots of wonderful old abandoned dairy barns set against the mountainous backdrop of the Cascades) old sloughs and boats, La Conner, Edison Slough, Swinomish Channel and estuaries!
The farm fields are now in full summer colors, with ochre and russet tinted grasses among the many shades of warm greens, cut crops creating windrow patterns, tall cypress trees . . . all amidst the glowing light that only exists in the Skagit Valley area!!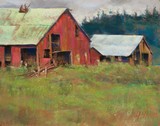 I love how the light over there slips through the cracks of old barns, especially where open doors give a little sense of mystique in the shadows, almost as if you are time-warped back into the decades. All great subject matter to paint and I do live demos each day, plus assist all workshop attendees at their easels. Learn to paint with conviction and simplify subjects into great compositions that can be painted within 2-3 hours!
Sign-up here
or call me at 360-468-2557 if any questions.
Steve Hill