This piece was painted yesterday at the lower bay area of Robin Hoods Bay on the Heritage Coast of the English North York Moors, where we will spend the next 3 days exploring these steep hillside villages and old harbors full of colorful boats surrounded by century's old buildings topped with bright tiled roofs.
If this sounds like a travel log, it is. Walking around the village here is like a little time travel (back to 15th century) as you readily feel and see the connection with smugglers and pirates who lured ships into the rocky shores waving signal lights, as if to say "welcome". Of course, the boats went hard aground allowing ample time for contraband to be secreted into the local economy. They say a bale of silk could be handed from the bottom to the top of the village without leaving the houses via secret hiding places bolt holes and passages. Even the Bay wives were involved by pouring boiling water on the excise men who came to tax the contraband, using their advantageous perches high above the narrow streets.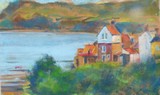 Steep, winding passages only begins to describe these villages . . . I plan to paint in Staithes and Whitby over the next couple of days and will be featuring work from this trip to Ireland and England at the annual Labor Day Studio tour on Lopez Island, when we return in late August.