The "Seasons of Change" show featuring 12 gallery artists will open on Thursday, October 5th at Yoshida's Fine Art Gallery in Portland. "Springs Late Bloom" (Lavender Farm) is pictured here and was featured in a glossy ad in the last issue of "Fine Arts Connoisseur" magazine.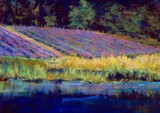 The show will highlight the 4 seasons, with my selected work from the Pacific Northwest and Italy included in the show.
You can visit the exhibit gallery on-line at
www.yoshidagallery.com
to see some of the artwork submitted for this show . . . but better yet, visit the gallery in person at 10th and Davis Streets in The Pearl District.