I am pleased to announce that my painting "Resting Under Evening Skies" (see previous blog) has been awarded "Best of Show" in the Northwest Pastel Society 24th International Juried Exhibit, at American Art Company gallery, in Tacoma Washington, by Duane Wakeham, Juror.
See related article in The Islands' Weekly Newspaper, November 16th edition
There were over 400 entries from all over the U.S. and Canada, with 70 paintings chosen for exhibit. Mr. Wakeham has won many major awards and titles in his own
distinguished career, and has achieved honors including: Master Pastelist, Pastel Society of America, Distinguished Pastelist, Pastel Society of the West Coast, was elected to PSA hall of fame (2000) and named PSWC Pastel Laureate (2009). He is frequently called to jury art exhibits in the U.S. and Canada and has been published in most major art magazines and many books on art techniques.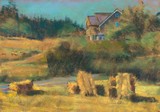 As this seemed to be my summer of painting many different hay fields in interesting light conditions, I'll share two similar pieces in this blog. The first is titled: "Marking Time and Pushing 100" and is available at Crow Valley Gallery (
www.crowvalleygallery.com
) on Orcas Island.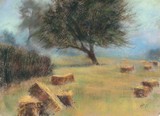 The second is titled "At the Edge of Light" and is available through Agora Gallery in New York.
www.agora-gallery.com
.
American Art Company
gallery is located at 1126 Broadway Plaza, in downtown Tacoma. 1-800-753-2278