This pastel was done en plein air at Iceberg Point on March 25th, the exact day it became part of the San Juan Islands National Monument, by proclamation of President Barack O'Bama, in a signing ceremony at the White House.
Since I missed the formation of some of the other key National Parks (Yellowstone, by President Grant in 1872 and Zion, by President Taft in 1898) it felt really good to be a small part of this day, as a landscape artist, painting in one of the most cherished reserves in the San Juan Islands, with fellow Lopez artist, Ralph Bladt.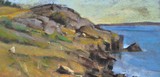 We each did 2 paintings that day and realize how lucky we are to have the advantage of living on this very special island and especially painting an area that has changed very little since the Coast Salish People inhabited these islands 10,000 years ago.