Travel & Plein Air Painting:
People ask how long it takes me to do a plein air painting and I usually reply; "Oh, about 34 years and 2 hours" referring to the constant learning curve (34 years) since I did my first on-site landscape pieces. The actual painting time is quite limited (@2 hours), as changing light quickly alters everything. In the last 21 days spent painting around sites in Tuscany, together with a significant birthday milestone, much has happened to realize some lifelong goals in my own art making process.
While the 8th Florence Biennale International Art Exhibit brought me here, I'm coming home with many new references and ideas for the studio and beyond. The images here, are works-in-progress that will require a few light touches to finish, as the winter sun is short-lived and I had to paint quickly.
One of the joys of international travel and finding these really cool painting sites, is the people we meet along the way. In this case, Linda O'Brien, Toronto born art historian, who specializes in Renaissance and teaches art history courses around Europe, and her husband, Franco Madella, Tuscan born architect, who shared his passion for the esthetics of his native culture. We rented their apartment for 10 days in Rovezzano, a district of Florence, situated upstream, along the Arno River, where Franco gave us a guided tour on our first day. The walking tour included this "Molino" (Italian for waterwheel) site along the river where a waterwheel once operated . . . no doubt a grist mill for flours used to make pastas, pane and pizzas, but now serving more as a special place set in antiquity for lovers of all ages to come view the Arno, as they did while I painted. The near edge of the river is still diverted through ancient stone archways, and the warm light cast on the stone structures and crisp winter sky reflected in the water really caught my attention. This place is not on any tourist maps, nor could we have possibly found it on our own.
The other titled: "Around the 'hood" is a view from our apt. balcony overlooking rooftops and one of the village companiles, where bells still bring a sense of medieval calm. Just pronouncing Rovezzano is rhythmic, expressive. We heard at least 3 distinctly different versions from train conductors, to our hosts, to the pizza guy just down the street, who makes the best pizzas we have ever tasted. "The Pizza Man" is on the neon lights of his busy shop, where all customers are greeted with complimentary small glasses of Prosecco as well as his own special crispy "fried pizza dough nuggets", done-up in olive oil, brushed with pomodoro sauce and then smudged with Buffalo Mozzarella or Parmigiano Reggiano cheese. It takes an entire 4-5 minutes to bake a pizza to perfection in his 800 degree oven. One must not go hungry (or thirsty) waiting so long for perfect foods like this! My best description: Fresh ingredients combined in a simple way, hand-stretched dough, dressed liberally in local olive oil, then pomodoro sauce, fresh chunks of mozzarella, and very large aromatic basil leaves immediately dropped onto the pizza as it comes smokin' out of the oven, infusing rich, flowery fragrance directly into . . . ahh!!!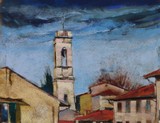 With that in mind and now that you're probably hungry, go out and find the best pizza you can, and open a little bottle of Prosecco or sparkling cider. Don't do delivery – have it HOT and NOW! We ordered to go, but The Pizza Man insisted, "You must sit down and enjoy it here, not at your apartment – it is VERY BEST NOW!" We'll raise a glass and have a slice in your honor, wishing each of you the most festive Buon Natale from Rovezzano, Italy . . . and hope to see you in 2012!