On Saturday and Sunday, September 3&4, we will host several hundred guests and art patrons at our home, studio and Windswept Fine Art Gallery, at 783 Port Stanley Rd. Many new works from around the islands and special plein air painting trips in the Pacific Northwest and Europe will be displayed for the first time, in pastels and oils, as well as figurative works from my live model drawing sessions.
New smaller originals, ready for framing and offered at half-price (starting at $350) are also available this year. These pieces will be made ready for transport to your own framer, in special mats and protective glassine – an excellent way to save money and enjoy owning an original. Very affordable limited edition Giclee prints are also available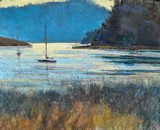 I will also have a few "live demo" pieces on easels, in the spirit of the studio tour, to show first hand the processes I use while working. A special showing of the works I am shipping to New York for my November opening and to Italy for The Florence Biennale (Dec. 3-12) are also on display. One piece from "The Best of The Best Worldwide Pastel Artists" book being published this fall (Kennedy Publications) is also on display.
The piece pictured here, was painted en plein air about one mile from my home, looking out towards Frost Island and Thatcher Pass, near Port Stanley, in early morning light.