I have had my artwork published in 2 new books, this year.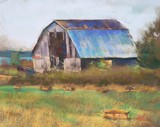 "The Best of Worldwide Artists Working in Pastel, Drawing and Charcoal", Vol. I, by Kennedy Publishing, came-out last August. I have 4 paintings featured in this beautiful new book. It is available on-line at
www.bestofartists.com
I have also been published in Best of American Artists working in Pastel, Vol. I, 2007 & Vol. II, 2009, by the same publisher.
Washington "En Plein Air" is the second book this year, published just 2 weeks ago. I had 4 paintings featured in that book, as well as one on the back cover. It is also available on-line at
www.blurb.com
.
I am hard at work on next year's art event schedule, which will include travel around the U.S. for juried art festivals & exhibits, openings at Agora Gallery in New York, Art on the Boulevard, Vancouver, WA, Crow Valley Gallery on Orcas Island and culminating with the invitational Florence Biennale, December, 2011, in Florence, Italy.
The painting here, titled: "Island Icon" is one of many scheduled to be exhibited soon, on Lopez Island, at Windswept Fine Art Gallery, as well as above mentioned galleries.
I will also be posting my 2011 pastel and oil class workshop schedules, by year's end.
Happy Holidays to all!