Archive for category: Northwest Series
I am very pleased to announce my pastel "Sally J, Underway" will be the poster piece for The Lopez Island Historical Society's gala "Celebrating 40 Years", with an opening reception at 5 p.m., this Friday, April 26, at the museum.
In a partnership with the museum, prints of this original, will be sold 2 ways – both as a smaller poster and also limited edition giclee prints that are 16" x 20".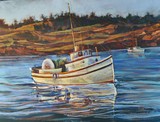 The framed pastel original (25" x 35") will be hanging at the opening, where it will remain for viewing until a special museum benefit auction, with guest celebrity auctioneer, Sharon Friel, in August. The auction will be held at Windswept Fine Art Gallery, Friday, August 30, during our annual Labor Day Weekend Artists' Studio Tour Preview party.
A second original has been started, featuring this historic gill net fishing boat, set in a foggy location just off Iceberg Point, where Bastian "Bus" Jevick fished for over 50 years! The Sally J was built in 1930 and fished by Jevick until he finally sold it during the Washington State Gear Reduction program in 1982.
The boat has found its permanent home, slightly stripped down and proudly on display in front of the LIHS, in Lopez Village. The second original painting will also be auctioned for the museum benefit in August. Ltd. Edition Giclee prints of that piece, through the LIHS, will be available upon completion.
This pastel was done en plein air at Iceberg Point on March 25th, the exact day it became part of the San Juan Islands National Monument, by proclamation of President Barack O'Bama, in a signing ceremony at the White House.
Since I missed the formation of some of the other key National Parks (Yellowstone, by President Grant in 1872 and Zion, by President Taft in 1898) it felt really good to be a small part of this day, as a landscape artist, painting in one of the most cherished reserves in the San Juan Islands, with fellow Lopez artist, Ralph Bladt.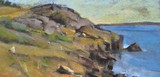 We each did 2 paintings that day and realize how lucky we are to have the advantage of living on this very special island and especially painting an area that has changed very little since the Coast Salish People inhabited these islands 10,000 years ago.