Archive for category: Workshop demonstration
Upcoming Pastel Workshop July 2014
To my blog subscribers and aspiring plein air painters! I am teaching another beginning/intermediate level plein air painting workshop at Dakota in Mt. Vernon, July 12/13 and 19/20 (2 weekends). This workshop still has a few spaces left.
If you've always wanted to take that little step from the studio to the great outdoors, we are looking at near perfect summer weather, some great new painting sites around the fabled Skagit Valley, including the Northern State Recreation Area, near Sedro Woolley (lots of wonderful old abandoned dairy barns set against the mountainous backdrop of the Cascades) old sloughs and boats, La Conner, Edison Slough, Swinomish Channel and estuaries!
The farm fields are now in full summer colors, with ochre and russet tinted grasses among the many shades of warm greens, cut crops creating windrow patterns, tall cypress trees . . . all amidst the glowing light that only exists in the Skagit Valley area!!
Sign-up here
or call me at 360-468-2557 if any questions.
Steve Hill
I just had to break the ice and go outside to paint today. So, I caught some ice (think winter Olympics - it's that cold here!) and headed to my favorite estuary at Port Stanley, about a mile from home. I loved how the ice formed-up during our recent nor'easter, leaving small, tell-tale frozen layers of salt water in this shallow estuary. That old farm house in the distance has been there for over 100 years and made a nice counter color to the frozen estuary. I think it's finished but will have another look tomorrow, after I warm up! Painting outside also reminded me about the upcoming workshops I'm teaching.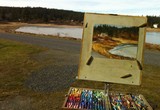 2014 WORKSHOP SCHEDULE.
MARCH 22/23 & 29/30 ~ Half - day sessions (consecutive weekends)
Dakota Art Center $200
Introduction to Pastel www.dakotaartcenter.com 1-888-345-0067 ext. 5
MAY 30 – JUNE 1
Painting the Landscape in Pastels – 3 days. $240 members/$290 non-members
Visual Art Alliance of Springfield (Missouri) www.visartalliance.com to register
Contact Sherri Davis
[email protected]
JULY 12/13 & 19/20 ~ Half - day sessions (2 weekends)
Dakota Art Center $200
Introduction to Plein Air Pastel www.dakotaartcenter.com 1-888-345-0067 ext. 5
Korcula Island, Croatia
SEPTEMBER 14-23
This is where you paint, travel, learn and eat in grand style on one of the most stunning islands in the Adriatic Sea! This art trip starts and ends in beautiful Dubrovnik, and there are still a couple of spaces available, as of this posting. $2450 Artists, $2250 non-artist travelling companion - Canadian Funds
Includes all accommodations, food, ground/ferry and boat transportation!
Contact Lynda Milina www.slikamilina.ca for details and to register.