Giclee prints are now available to order online from my printmaker, Bellevue Fine Art Reproduction. Prints of several of my latest works are on
www.bellevuefineart.com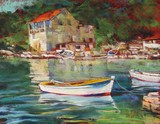 The image here is titled "Croatian Island Port" and will soon be available for $85 (edition of 250). They use the best laser equipped digital image capture and the finest archival inks and papers available in the world.
Certificates of Authenticity, signed by the printmaker, Scott Moore, are your assurance of the highest standards of quality control and accountability. Together, we approve and color correct all prints, to match the originals, when each edition is started.
I prefer to use Certificates of Authenticity (CA's), rather than numbering and signing individual prints, as it allows a much cleaner looking mat and frame, than the old method used for signing and numbering hand-pulled etchings, lithographs and silk screens. The "CA" then becomes your legal document, and can be displayed with the print, or mounted on the back, when they are framed.
I am involved in some very exciting plein air events, art shows, a new book being published (Best of America Pastel Artists Vol. II) and special exhibits, throughout the summer. Stay tuned!!