Announcing a new One Man Art Show
Steve Hill at
Art on the Boulevard Gallery
Vancouver, Washington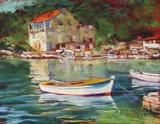 My first one man show will open with an artists' reception on Friday, March 6th from 5-9 p.m. at Art on the Boulevard Fine Art Gallery in downtown Vancouver, Washington. I am unveiling 28 new pastel paintings, many from our recent 3 month trip to Europe, as well as plein air paintings from the U.S. – all completed over the past year.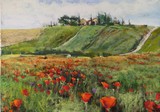 The gallery is hosting the reception with festive foods and wine throughout the evening. I am very excited to have a solo show featuring these new pieces and hope to see you at the opening reception! The gallery is located at the corner of Evergreen and Columbia, (210 W. Evergreen Blvd) (360) 750-4499.
Please visit their web site, to preview works for this show at www.artontheboulevard.org. Should you see a painting you would like to purchase, please call or email the gallery before the opening reception to have a hold placed on the original.
Special Note: Art on the Boulevard Gallery pays Washington State Sales Tax on any and all gallery sales!
Reader Comments
1.
Friday, February 20, 2009 @ 5:39:51 PM by
Wanda
The paintings are MAHVELHOUS!!! (Especially the one of the valley!) I know the show is going to be FANTASTIC!!!!
Leave a Comment