I am very pleased to announce my pastel "Sally J, Underway" will be the poster piece for The Lopez Island Historical Society's gala "Celebrating 40 Years", with an opening reception at 5 p.m., this Friday, April 26, at the museum.
In a partnership with the museum, prints of this original, will be sold 2 ways – both as a smaller poster and also limited edition giclee prints that are 16" x 20".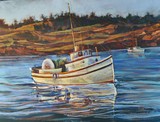 The framed pastel original (25" x 35") will be hanging at the opening, where it will remain for viewing until a special museum benefit auction, with guest celebrity auctioneer, Sharon Friel, in August. The auction will be held at Windswept Fine Art Gallery, Friday, August 30, during our annual Labor Day Weekend Artists' Studio Tour Preview party.
A second original has been started, featuring this historic gill net fishing boat, set in a foggy location just off Iceberg Point, where Bastian "Bus" Jevick fished for over 50 years! The Sally J was built in 1930 and fished by Jevick until he finally sold it during the Washington State Gear Reduction program in 1982.
The boat has found its permanent home, slightly stripped down and proudly on display in front of the LIHS, in Lopez Village. The second original painting will also be auctioned for the museum benefit in August. Ltd. Edition Giclee prints of that piece, through the LIHS, will be available upon completion.
Reader Comments
1.
Wednesday, April 24, 2013 @ 10:56:20 PM by
Carolyn
What a great painting of the Sally J, Steve! The scene off Iceburg Point on a perfect day is gorgeous and that boat is just so darn cute! Wonderful colors, movement and reflection!
2.
Wednesday, April 24, 2013 @ 11:35:41 PM by
Mary Bywater Cross
Congratulations to you and the museum. We are lucky to have you both on Lopez Steve! I'll be present at the auction to encourage the bidding.
3.
Thursday, April 25, 2013 @ 5:22:56 PM by
Pinky
Your dates are wrong. In your first paragraph it says reception is Friday, April 24, which was Wednesday, not Friday. Just thought I would let you know.
Leave a Comment