September 23 2009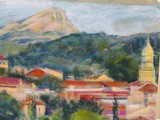 Cezanne's atelier, which I visited today, had a similar although loftier view over the city of Mont Sainte Victoire, which he painted several times with mid-range color values and a muted palette.
Perhaps the transient effects of light affects my own palette in a much different way. I tend towards expressing light on objects with stronger color temperatures and a very large range of lights and darks, because it is how I see and choose to interpret the landscape.
Same mountain, different painting techniques and styles. Interesting to note: Picasso is buried on this mountain, as his family purchased a huge piece of Mt. Ste Victoire when he died. A well curated exhibit of Cezanne and Picasso's work at the museum in Aix provided excellent examples of the 2 artists mutual admiration and influence, especially of Cezanne for Picasso. (Cezanne died 1906, Picasso 1973). We are all part of this ongoing visual dialogue and the best is yet to come.